Attention! Looking for fitness SF, gyms SF workouts SF? If you are reading this, you are probably considering a substitute or a supplement for your existing gym, fitness class, or workout. Treadmills and stair masters, with power televisions, will not get the job done for most of us. Are you tired of inert personal trainers and lazy group fitness instructors? Were other bootcamp workouts too easy?  The 02Athletics team is committed to your health and energy. Our team of trainers is highly motivated and serious about working hard and having a good time with our workouts. We don't want to see you suffer, we want to see you smile!
-Awesome Workouts
-Tone Arms & Legs
-Torch Belly Fat
-Stay motivated with super trainers!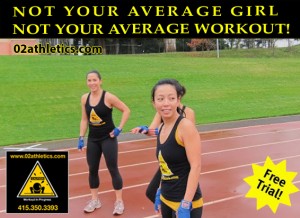 02Athletics boot camp is best described as an intense cross-training fitness workout. Every session incorporates running, stair drills, sprint work, calisthenics, kickboxing, boxing, natural movement and body weight resistance routines.  Yes! The workouts are demanding, but the variety of programs will keep you engaged and focused on your goals.  With this in mind, we make the following guarantees.  You will be surrounded by individuals who take fitness seriously.  The 02Athletics environment caters to all fitness levels and all ages by simultaneously nurturing beginners and challenging athletes. 02Athletics encourages everyone to succeed. If you live in San Francisco, you owe it to yourself to invest in your health & energy. We invite you decide by taking our no risk Free Trial.
You Don't Need To Be In Shape To Get In Shape That's Why We Are Here! START TODAY!!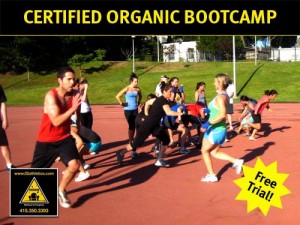 Beginners, athletes, and baby-boomers alike are encouraged to give it a try. No matter who you are, you will be out of breath and you will be sore. But, you will have fun being pushed beyond your comfort zone.  We are an alliance committed to each others goals, whether you are just starting out, or have tried everything -
United We Sweat.
TRY A FREE 02ATHLETICS BOOTCAMP FITNESS SF WORKOUT!!
Unique and Different Always.
Kickboxing Classes
Boxing Classes
Sprints & Running
Fun Fitness
Resistance & Cardio
Awesomest Workouts in San Francisco / Oakland!